Executive Committee
2017–2019 Officers
Christina Clarkson,
President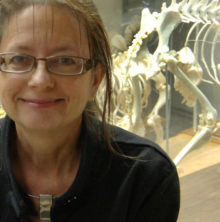 Tina received a D.V.M. from the University of Minnesota (1978) and Ph.D. in Anatomy from Texas A&M University (1985). After fifteen years in small animal private practice she returned to the University of Minnesota (1999), and is now associate professor in the Department of Veterinary and Biomedical Sciences. Her research interests have ranged from the derivation and characterization of adult stem cell to now a primary focus on teaching and learning. She has a major role as course coordinator and/or instructor in several subject areas within the veterinary curriculum [gross anatomy (small and large animal), microscopic anatomy, communication and interprofessional education] and also within the undergraduate curriculum (comparative anatomy). Her passion lies within the realm of functional morphology. Tina's current favorite pastime is playing with grandchildren :-)!
Ray Wilhite,
President-Elect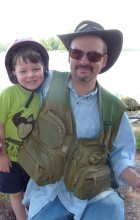 Ray earned a BS in Geology from the University of Alabama at Birmingham in 1995, a Master's degree in Geology (vertebrate paleontology) from Brigham Young University in 1999, and his PhD in Geology (vertebrate paleontology) from Louisiana State University in 2003.  His dissertation was titled "Biomechanical Reconstruction of the Appendicular Skeleton in Three North America Upper Jurassic Dinosaurs."  While dissecting alligator limbs for part of my PhD, Ray met Dr. Dan Hillmann, the head of anatomy at the LSU School of Veterinary Medicine.   Ray found that he loved working in the anatomy lab and was hired as an instructor in gross anatomy and histology in June, 2003.  In January 2008 he accepted a position as the Anatomy Laboratory Coordinator for the Auburn College of Veterinary Medicine.  He currently teaches in both small and large animal anatomy, and notes that, "The best part of my job is that I get to dissect almost every day.   I have also recently begun an exotics elective focusing on birds, reptiles and fish.  Throughout the course of my career I have given class lectures in historical geology, sauropod dinosaur anatomy and paleobiology, bone and cartilage histology, histology of the equine hoof,  equine thoracic and pelvic limb anatomy, equine and bovine reproductive anatomy, canine thoracic and pelvic limb anatomy, cetacean evolution and natural history, crocodilian anatomy, bird anatomy, fish anatomy and reptile anatomy.  My research interests include limb biomechanics in crocodilians and sauropod dinosaurs as well the nature of articular cartilage.   I am also very interested in producing high quality teaching images both from photos and 3D models.   My main hobbies are fishing, scale modeling, and chasing reptiles and amphibians wherever I can find them!"
Michelle Pine,
Membership Secretary – Treasurer

Michelle is a clinical assistant professor in the department of veterinary integrative biosciences at Texas A&M University, and a member of AAVA since 2008. Her research interests encompass neurodevelopment/neurotoxicology and nanotoxicology. She studies the effects of in utero exposure to pyrethroid pesticides on the cerebellum. She enjoys teaching gross anatomy in the undergraduate biomedical science program, and she is currently developing a marine animal anatomy elective for the third year veterinary students. Her hobbies include refinishing antique furniture and square dancing.
Steve Lampa,
Corresponding Secretary

Steve is a clinical assistant professor at Washington State University College of Veterinary Medicine; he is an instructor of small and large animal anatomy. He delivers lectures on basic embryology, teratogenesis, and organogenesis to first year veterinary students and has been teaching veterinary anatomy for seven years. Steve is also the Director of the Robert P. Worthman Anatomy Museum. Other teaching duties include instruction of undergraduate neuroanatomy students as well as helping to teach and coordinate neuroanatomy instruction to first year medical students. Steve received his PhD in Neuroscience from Washington State University in 2004; his dissertation described the neuromuscular topography in murine muscles using electrophysiology, immunohistochemistry, and confocal microscopy. After completion of his degree he worked for two years in a post-doctoral research position looking at the peripheral neural controls associated with feeding in the rat, using immunocytochemistry, neuropharmacology, and behavioral assessments. At present he is not actively involved in any basic science research. His current interests include all aspects of anatomy teaching pedagogy. Steve is also actively involved in the preparation of the prosections that are used for teaching. Prior to teaching veterinary anatomy Steve spent 10+ years teaching first year medical students human anatomy, preparing human cadavers for teaching and managing a human anatomy lab at Washington State University. Steve is currently a member of the Society for Neuroscience and the American Association of Clinical Anatomists. He has been an AAVA member since 2009. Steve's hobbies include golf and watching intercollegiate sports.
Past Officers
| Year | President | President-Elect | Corresponding Secretary | Membership Secretary/ Treasurer |
| --- | --- | --- | --- | --- |
| 2015-2017 | Ray Wilhite | Christina Clarkson | Steve Lampa | Michelle Pine |
| 2013-2015 | Leslie Sprunger | Ray Wilhite | Steve Lampa | Michelle Pine |
| 2011-2013 | Terri Clark | Leslie Sprunger | Steve Lampa | Michelle Pine |
| 2008–2011 | David Sims | Terri Clark | Balaji Ramanathan | Leslie Sprunger |
| 2007–2008 | Baljit Singh | David Sims | Balaji Ramanathan | Leslie Sprunger |
| 2006–2007 | Baljit Singh | David Sims | Thomas Caceci | Dennis Duffield |
| 2004–2006 | Louise Abbott | Baljit Singh | Thomas Caceci | Dennis Duffield |
| 2002–2004 | Nong Inpanbutr | Louise Abbott | Thomas Caceci | Dennis Duffield |
| 2000–2002 | Larry Freeman | Nong Inpanbutr | M. Littlefield-Chabaud | Dennis Duffield |
| 1998–2000 | Carlton Lamar | Larry Freeman | M. Littlefield-Chabaud | Dennis Duffield |
| 1996–1998 | Daniel Hillmann | Carlton Lamar | Louise Abbott | Dennis Duffield |
| 1994–1996 | Teresa Rowles | Daniel Hillmann | Louise Abbott | Larry Freeman |
| 1993–1994 | Robert Henry | Teresa Rowles | Louise Abbott | Larry Freeman |
| 1992–1993 | Gerald Bratton | Robert Henry | Teresa Rowles | Walter Cash |
| 1991–1992 | Thomas Caceci | Gerald Bratton | Teresa Rowles | Walter Cash |
| 1990–1991 | John Munnell | Thomas Caceci | Teresa Rowles | Jo Ann Eurell |
| 1989–1990 | Harold Engel | John Munnell | Thomas Caceci | Jo Ann Eurell |
| 1988–1989 | James Smallwood | Harold Engel | Thomas Caceci | W. Haensly |
| 1987–1988 | Paul Rumph | James Smallwood | Harold Engel | W. Haensly |
| 1986–1987 | William Banks | Paul Rumph | Harold Engel | W. Haensly |
| 1985–1986 | Carleton Lohse | William Banks | James Smallwood | Raul Rumph |
| 1984–1985 | Norman Wilsman | Carleton Lohse | James Smallwood | Paul Rumph |
| 1983–1984 | Wes Anderson | Norman Wilsman | Carleton Lohse | Paul Rumph |
| Year | President | President-Elect | Secretary/ Treasurer | |
| --- | --- | --- | --- | --- |
| 1982–1983 | Edward Hinsman | Wes Anderson | David Van Sickle | |
| 1981–1982 | Wolfgang Sack | Edward Hinsman | David Van Sickle | |
| 1980–1981 | Herman Meyer | Wolfgang Sack | Charles Diesem | |
| 1979–1980 | H.D. Dellmann | Herman Meyer | Charles Diesem | |
| 1978–1979 | Howard Evans | H.D. Dellmann | Herman Meyer | |
| 1977–1978 | John Stump | Howard Evans | Herman Meyer | |
| 1976–1977 | Clark Holloway | John Stump | Herman Meyer | |
| 1975–1976 | Robert Worthman | Clark Holloway | William Banks | |
| 1974–1975 | Raymond Sis | Robert Worthman | William Banks | |
| 1973–1974 | Thomas Fletcher | | Robert Worthman | |
| 1972–1973 | Glenwood Epling | | Raymond Sis | |
| 1971–1972 | James Lovell | | Thomas Fletcher | |
| 1970–1971 | J.T. Bell | | Glenwood Epling | |
| 1969–1970 | R.C. Williams | | James Lovell | |
| 1968–1969 | W.S. Tyler | | J.T. Bell | |
| 1967–1968 | Robert McClure | | R.C. Williams | |
| 1966–1967 | M. Stromberg | | W.S. Tyler | |
| 1965–1966 | J. Ballantyne | | Robert McClure | |
| 1964–1965 | Robert Habel | | M. Stromberg | |
| 1963–1964 | Alvin Weber | | J. Ballantyne | |
| 1962–1963 | G. Christensen | | Robert Habel | |
| 1961–1962 | Robert Getty | | Alvin Weber | |
| Year | President | | Secretary/ Treasurer | |
| --- | --- | --- | --- | --- |
| 1960–1961 | T. Fitzgerald | | G. Christensen | |
| 1959–1960 | C. Westerfield | | Robert Getty | |
| 1958–1959 | D.G. Lee | | T. Fitzgerald | |
| 1957–1958 | M.L. Calhoun | | D. Westerfield | |
| 1956–1957 | Duane Peterson | | M.L. Calhoun | |
| 1955–1956 | J. McCurdy | | A. Price | |
| 1954–1955 | Ralph Kitchell | | Duane Peterson | |
| 1953–1954 | R. Davis | | J. McCurdy | |
| 1952–1953 | L. St.Clair | | D.G. Lee | |
| 1951–1952 | V.R. Brown | | Ralph Kitchell | |
| 1950–1951 | Malcolm E. Miller | | Ralph Kitchell | |
| 1949–1950 | James Grossman | | C. Titkemeyer | |
| 1948–1949 | Malcolm E. Miller | | J. Smithcors | |