Message from the President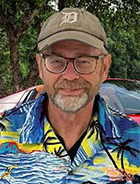 Welcome to the website of the American Association of Veterinary Anatomists. The AAVA is a non-profit membership organization dedicated to the advancement of veterinary anatomical science. We are continuing to update this site in the hopes that it will serve as a useful resource for veterinary anatomists. We have links to a number of sites including a repository of anatomical photos. I have used the latter to supplement pictures I use on presentations and they were very handy when we were shutdown due to the panademic.
Thank you for your interest in our association. Stay safe and get vaccinated. Hopefully things will eventually get back to some semblance of "normalcy". If you have questions that this site does not answer, please feel free to contact me at crossdt@missouri.edu.
Dave Cross, AAVA President
---