Executive Committee
2023-2025 Officers
Shireen A. Hafez,
President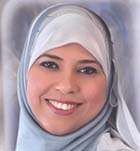 I am a veterinarian with a PhD in Anatomy, as well as a certificate and a diploma in education. After I graduated from my alma mater Virginia Tech I have taught in five very diverse AAVMC member veterinary schools and two medical schools. This experience allowed me to broaden my outlook and to "live" several curricular designs and teaching techniques in action. I can think "outside my institution's box" as a result.
I published several articles in the field of angiogenesis before switching to educational research. My research is focused on improving students' educational experiences. I am particularly interested in emotional intelligence and its relationship to learning as well as curriculum design and outcome assessment.
My goal in serving the association is driven by my passion for anatomy. Anatomy is a vital component of veterinary professional training that must be preserved and enhanced. My commitment to the discipline has only grown stronger over the years, so much so that I need to do more than help students; it is time to officially serve my beloved discipline and all my fellow anatomists. My goal is to serve all anatomists at different levels. I will do my best to enhance the mission and impact of the association.
I appreciate your trust. If you have any questions, please feel free to contact me. I look forward to serving and support.
Shireen A. Hafez, DVM, PhD, PGCertVetEd, FHEA, PgDipVetEd,
AAVA President-Elect
Associate Professor of Anatomy
shafez@vt.edu
Karen Hershberger-Braker,
Membership Secretary – Treasurer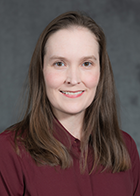 Karen is a lecturer in the Departments of Comparative and Pathobiological Science at University of Wisconsin-Madison (UW-Madison), School of Veterinary Medicine. She completed her PhD in Virology at Harvard University, then did post-doctoral work on influenza at UW-Madison. Karen earned her DVM at UW-Madison in 2010. Motivated by her long-standing interest in education, Karen taught veterinary technology at a small school before joining the staff at UW-Madison in 2017. One of her favorite aspects of teaching is showing students the practical application of their coursework to clinical procedures. In addition to teaching both large and small animal anatomy, Karen is involved in research on ultrasound-guided regional anesthetic blocks. Her outside activities include frequent participation in local spay-neuter clinics, where she can help provide veterinary services to patients in underserved communities.
Abby Brown,
Corresponding Secretary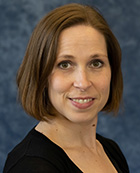 I am an Education Program Specialist at the University of Minnesota (UMN) College of Veterinary Medicine (CVM). I began my career in academia as a veterinary technician in a lab management and instructional support role for the gross veterinary anatomy lab in May 2005 – and anatomy has been my passion and specialty ever since! I hold an Associate of Applied Science (AAS) degree in Veterinary Technology, and have been a Certified Veterinary Technician (CVT) since 2005. I also have a Bachelor of Science (BS) degree in Animal Science with a production animal emphasis. In the last three years, I have completed several courses in leadership, supervisory and instructor development, and currently lead a team of technicians that provide lab and instructional support for the core courses with labs within the UMN DVM curriculum. Over the years, I have created numerous educational resources for our gross anatomy courses, including pre-lab presentations, dissection videos, and eBook dissection guides. For over 18 years now, I have been educating veterinary students within the UMN program and I have learned a great deal about not only my specialty discipline (anatomy) but also about best practices for teaching, working with students, educational programming and how to be an effective team leader and educator. I feel that I bring a unique perspective to this organization and I offer up my skills and talents to further our collective mission of advancing veterinary anatomical science. Outside of work, I enjoy spending time with my family, going camping during the summer months, baking, and reading mystery novels.
Tiana Magee,
President-Elect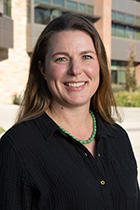 My interest in this role stems from my desire to support anatomy education and the development of the next generation of anatomists and anatomy educators. As an Associate Professor in the College of Veterinary Medicine and Biomedical Sciences at Colorado State University (CSU), I serve in a variety of roles, including the Assistant Department Head for DVM Teaching and Clinical Services and the Director of the Animal Anatomy Programming and Strategic Planning, to support both animal anatomy and veterinary education. As the Program Lead for CSU's Virtual Veterinary Educational Tools, I have led the ongoing development of Virtual Canine Anatomy into Virtual Animal Anatomy, pursuing translations from English into Spanish, Japanese, and Portuguese, expanded the virtual resources for learning equine, feline, and bovine anatomy, and created a platform for worldwide distribution. In this role, I also ensured that >12,000 anatomy learners at more than 140 schools around the world had free access to the VAA during March-July 2020 when access to cadaveric learning was restricted by COVID-19 lockdowns.
My passion for anatomy and anatomy education began under the tutelage of Dr. M.S. Amarendhra Kumar at Tufts University, where one of my first projects as a veterinary student was to edit his Equine Dissection manual. At CSU, I am surrounded by incredible anatomists and the legacy of those who have helped shape anatomy education. I recognize and value the vast spectrum of anatomists and anatomy educators who make up this organization. Through my PhD research and veterinary specialty training, I have become a systems-thinker, a problem-solver, and a passionate educator. In recent years, I have focused my research on evaluating instructional methods, including Virtual Reality, and strategies for supporting student learning so that we can apply evidence-based methods in our decision making as anatomy educators. For the last ten years I have also advised and graduated 15-20 Master of Science students/year with a concentration in Animal Anatomy and Physiology, many of whom are now contributing to anatomy education. I know the importance of providing our students, regardless of where they are in their academic journey, with a solid foundation in anatomy. I anticipate using the same collaborative and collegial methods that I do at CSU to provide this community with the necessary tools to ensure that anatomy continues to be a foundation to biomedical and veterinary education.
Past Officers
| Year | President | President-Elect | Corresponding Secretary | Membership Secretary/ Treasurer |
| --- | --- | --- | --- | --- |
| 2021-2023 | David Cross | Shireen A. Hafez | Karen Hershberger-Braker | Karen Hershberger-Braker |
| 2019-2021 | Steve Lampa | David Cross | Bob Linford | Cheryl Herman |
| 2017-2019 | Tina Clarkson | Steve Lampa | Bob Linford | Cheryl Herman |
| 2015-2017 | Ray Wilhite | Christina Clarkson | Steve Lampa | Michelle Pine |
| 2013-2015 | Leslie Sprunger | Ray Wilhite | Steve Lampa | Michelle Pine |
| 2011-2013 | Terri Clark | Leslie Sprunger | Steve Lampa | Michelle Pine |
| 2008–2011 | David Sims | Terri Clark | Balaji Ramanathan | Leslie Sprunger |
| 2007–2008 | Baljit Singh | David Sims | Balaji Ramanathan | Leslie Sprunger |
| 2006–2007 | Baljit Singh | David Sims | Thomas Caceci | Dennis Duffield |
| 2004–2006 | Louise Abbott | Baljit Singh | Thomas Caceci | Dennis Duffield |
| 2002–2004 | Nong Inpanbutr | Louise Abbott | Thomas Caceci | Dennis Duffield |
| 2000–2002 | Larry Freeman | Nong Inpanbutr | M. Littlefield-Chabaud | Dennis Duffield |
| 1998–2000 | Carlton Lamar | Larry Freeman | M. Littlefield-Chabaud | Dennis Duffield |
| 1996–1998 | Daniel Hillmann | Carlton Lamar | Louise Abbott | Dennis Duffield |
| 1994–1996 | Teresa Rowles | Daniel Hillmann | Louise Abbott | Larry Freeman |
| 1993–1994 | Robert Henry | Teresa Rowles | Louise Abbott | Larry Freeman |
| 1992–1993 | Gerald Bratton | Robert Henry | Teresa Rowles | Walter Cash |
| 1991–1992 | Thomas Caceci | Gerald Bratton | Teresa Rowles | Walter Cash |
| 1990–1991 | John Munnell | Thomas Caceci | Teresa Rowles | Jo Ann Eurell |
| 1989–1990 | Harold Engel | John Munnell | Thomas Caceci | Jo Ann Eurell |
| 1988–1989 | James Smallwood | Harold Engel | Thomas Caceci | W. Haensly |
| 1987–1988 | Paul Rumph | James Smallwood | Harold Engel | W. Haensly |
| 1986–1987 | William Banks | Paul Rumph | Harold Engel | W. Haensly |
| 1985–1986 | Carleton Lohse | William Banks | James Smallwood | Raul Rumph |
| 1984–1985 | Norman Wilsman | Carleton Lohse | James Smallwood | Paul Rumph |
| 1983–1984 | Wes Anderson | Norman Wilsman | Carleton Lohse | Paul Rumph |
| Year | President | President-Elect | Secretary/ Treasurer | |
| --- | --- | --- | --- | --- |
| 1982–1983 | Edward Hinsman | Wes Anderson | David Van Sickle | |
| 1981–1982 | Wolfgang Sack | Edward Hinsman | David Van Sickle | |
| 1980–1981 | Herman Meyer | Wolfgang Sack | Charles Diesem | |
| 1979–1980 | H.D. Dellmann | Herman Meyer | Charles Diesem | |
| 1978–1979 | Howard Evans | H.D. Dellmann | Herman Meyer | |
| 1977–1978 | John Stump | Howard Evans | Herman Meyer | |
| 1976–1977 | Clark Holloway | John Stump | Herman Meyer | |
| 1975–1976 | Robert Worthman | Clark Holloway | William Banks | |
| 1974–1975 | Raymond Sis | Robert Worthman | William Banks | |
| 1973–1974 | Thomas Fletcher | | Robert Worthman | |
| 1972–1973 | Glenwood Epling | | Raymond Sis | |
| 1971–1972 | James Lovell | | Thomas Fletcher | |
| 1970–1971 | J.T. Bell | | Glenwood Epling | |
| 1969–1970 | R.C. Williams | | James Lovell | |
| 1968–1969 | W.S. Tyler | | J.T. Bell | |
| 1967–1968 | Robert McClure | | R.C. Williams | |
| 1966–1967 | M. Stromberg | | W.S. Tyler | |
| 1965–1966 | J. Ballantyne | | Robert McClure | |
| 1964–1965 | Robert Habel | | M. Stromberg | |
| 1963–1964 | Alvin Weber | | J. Ballantyne | |
| 1962–1963 | G. Christensen | | Robert Habel | |
| 1961–1962 | Robert Getty | | Alvin Weber | |
| Year | President | | Secretary/ Treasurer | |
| --- | --- | --- | --- | --- |
| 1960–1961 | T. Fitzgerald | | G. Christensen | |
| 1959–1960 | C. Westerfield | | Robert Getty | |
| 1958–1959 | D.G. Lee | | T. Fitzgerald | |
| 1957–1958 | M.L. Calhoun | | D. Westerfield | |
| 1956–1957 | Duane Peterson | | M.L. Calhoun | |
| 1955–1956 | J. McCurdy | | A. Price | |
| 1954–1955 | Ralph Kitchell | | Duane Peterson | |
| 1953–1954 | R. Davis | | J. McCurdy | |
| 1952–1953 | L. St.Clair | | D.G. Lee | |
| 1951–1952 | V.R. Brown | | Ralph Kitchell | |
| 1950–1951 | Malcolm E. Miller | | Ralph Kitchell | |
| 1949–1950 | James Grossman | | C. Titkemeyer | |
| 1948–1949 | Malcolm E. Miller | | J. Smithcors | |